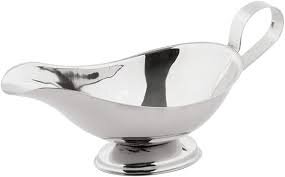 8oz Stainless Steel Saucer Boat




$5.00

Please call to reserve this item.

MULTIFUNCTIONAL:
This Gravy Boat can be used for Warm Gravy Serving, Sauce Service, House Salad Dressings, Signature Gravies or simply adding Sticky-Sweet Syrup when serving Pancakes, Waffles or French Toasts.
COMMERCIAL GRADE:
Sturdy 18/8 Stainless Steel, Rust-Proof, Stain-Proof and Crash-Proof. Perfect for Catering Events.