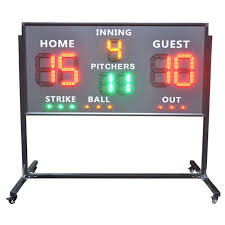 Multisport Digital Scoreboard




$200.00

Please call to reserve this item.

The Multisport Indoor Scoreboard scores Multiple sports including Basketball, Volleyball, Wrestling, and can function as a stopwatch or clock.
It includes fully functioning wireless remote controller which makes it easy to change sports or it can turn unit off remotely.
Wireless controller has a range of 300 feet and 12 different channels to choose from which allows for multiple units in the same area.
Includes wireless remote and 100 feet of cable if needed.
Large 6" LED digits; 3 digit scoring and digital periods. Bonus and possession indictators for each team. Can be wall mounted or can be used with portable stand.